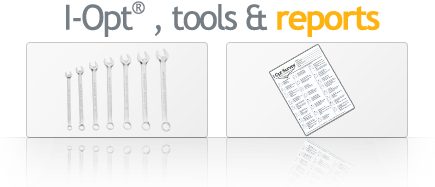 Obtaining a Report
We try to make it as easy as possible to work with us. Therefore we do not require certification, contracts, or minimum purchase amounts.
Retail Clients
Retail clients can take the "I Opt" Survey in the form of a Microsoft Word document and email or fax it to our offices. The resulting analyses will then be emailed back to the contact person. Our turnaround time is 24-48 hours.
To receive a current list of our analyses and prices via email, please contact us.
Web Access Clients
With web access you have your own company web site with username and passwords to protect your database. Access to all of our reports, an online "I Opt" survey page, private database and the ability to request any report, any time, and receive results within one hour.
Web access requires a subscription and the price varies depending on whether you subscribe to Direct Access or Unlimited Use.
For information on pricing, please contact us.